Outland Wanderer
[P] Party Update v0.0.6/ [R] v0.0.5
---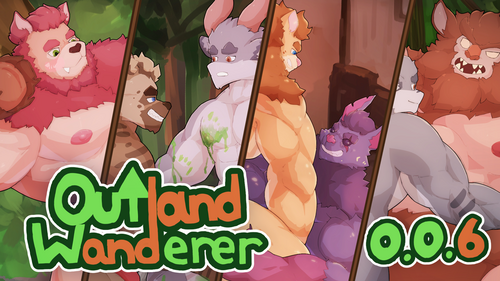 SPOILERS!
This Update is now available on Patreon! <3
https://www.patreon.com/OutlandWanderer

3 NEW QUESTS!
- Courier Training...?: Ole and Sebas has prepared some training... you wonder what it is (Spoiler they threw you a party! Go to the tavern and join the party and meet everyone in Lusterfield!)
- Strength and Disguise: Ole has prepared you some training with Amble and Jog! Shadow them around and learn new skill for Battle!
- Fluff and Tuff: Cane has noticed your hard work as a server in the Tavern. He decides to take the business to the next level by introducing you to a different type of patrons to be served~
7 NEW CGS!
- Amble Training - Training with Amble is a test of effort and stamina... especially when the big guy has a request for your mouth

- Jog Training - Training with Jog comes with a huge perks, which involves getting your body covered in paints

- Seb/Cane: when you work at night... while Sebas is in the tavern... you notices something with the lion and the bat.

- Buggbear win Scene - When you win against the buggbear (Written by Nyar!!) <3
- Dominant Patrons
- Submissive Patrons

- Romantic Patrons



This update is mostly written by lonelytree!! <3 It will go public in mid September.
v0.0.5 is now public :3
https://f1shsticker.itch.io/outland-wanderer/devlog/417725/p-minotaur-update-v00...

Comments
Log in with itch.io to leave a comment.
Uhmm there is a bug I cant seem to Put on or Unequip anything